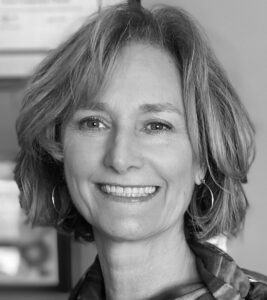 Christy Ostmeyer is a licensed architect with over 25 years of experience in multiple venue types.  For the past 17 years, she has specialized in public assembly sports and entertainment venues. Christy is distinguished by the experience and unique perspective gained as an owner of an architectural and engineering firm in Colorado Springs, Colorado.
A LEED® Accredited Professional, Christy has promoted the concept that green, sustainable, energy-efficient design not only preserves the environment, conserves valuable resources, and reduces life cycle costs,  it creates healthier, more exhilarating environments and inspires more creative and innovative design solutions. A skilled communicator, Christy contributes to building a sense of trust and partnership between owner, design team, consultants, contractors and occupants. Christy's most successful projects have all been collaborative team efforts. 
RELEVANT PROJECT EXPERIENCE:
Bank of America (formerly Ericsson) Stadium, Carolina Panthers; Charlotte, North Carolina*
Arrowhead Stadium Renovations, Kansas City Chiefs; Kansas City, Missouri*
Dolphins Stadium, Concession Improvements; Miami, Florida*
Giants Stadium Suite Additions; East Rutherford, New Jersey*
Kauffman Stadium Additions and Renovations; Kansas City, Missouri*
Citi Field, new home for the New York Mets; New York, New York*
Yankees Stadium; New York Yankees Baseball Club, New York*
Petco Park, San Diego Padres Baseball Club; San Diego, California*
Minor League/Spring Training Hohokam Stadium and Fitch Park; Mesa, Arizona*
Spring Training Facility and Stadium for Chicago Cubs*
Tucson Electric Park, Chicago White Sox and Arizona Diamondbacks; Tucson, Arizona*
Bright House Field, Spring Training Stadium for the Philadelphia Phillies; Clearwater, Florida*
San Bernardino Stadium, 5,000 seat Minor League Stadium; San Bernardino, California*
Newark/Essex County Riverfront Stadium, Newark, New Jersey*
Chivas Soccer Stadium; Zapopan, Guadalajara, Mexico*
Foro Sol Stadium, baseball renovation;  Mexico City, Mexico
Club de Futbol, 50,000-seat soccer stadium for the Rayados; Monterrey, Mexico*
Pepsi Center; Denver, Colorado*
Sprint Center Arena, Tenant Improvements; Kansas City, Missouri*
Dick Howser Baseball Stadium Renovation; Florida State University , Tallahassee, Florida*
O'Connell Center Improvements; University of Florida, Gainesville, Florida*
Virginia Tech Lane Stadium West Sideline Expansion; Blacksburg, Virginia*
*Personal experience of Christine Ostmeyer while associated with another firm.
EDUCATION: Kansas State University, B.Arch.
REGISTRATION: Christine Ostmeyer is licensed as an architect in the State of Colorado.
MEMBERSHIPS: Member, American Institute of Architects
LEED® Accredited Professional, U.S. Green Buildings Council
Tau Sigma Delta – Honor Society in Architecture and Allied Art